Reflecting on Motherhood
The foundation of caring for your health as a mother is understanding the whys and wherefores of everything that's happened to you since you became a mom. Sometimes it really helps to read about the experience of other mothers, or get suggestions about managing some aspect of raising a family. There are many excellent books out there, and here are some that we've gotten a lot out of ourselves.
Personal Experiences
Operating Instructions, by Anne Lamott. Fawcett Books, 1994. Intimate, hilarious, inspiring description of life as a new mother.
Mothers Who Think, edited by Camille Peri and Kate Moses. Villard, 1999. Excellent collection of first-person stories of motherhood by excellent writers.
A Slant of Sun, by Beth Kephart. William Morrow, 1998. Beautifully written account of raising a child with special needs.
Mother's Nature. Anthology by Andrea Alban Gosline, Lisa Burnett Bossie, and Ame Mahler Beanland. Wonderful gathering of inspiring, heartwarming passages from many authors.

Scholarly Perspectives
The Birth of A Mother, by Daniel N. Stern, M.D., Nadia Bruschweiler-Stern, M.D., and Alison Freeland.Basic Books, 1998. Sensitive description of the inner transition to motherhood.
Of Woman Born, by Adrienne Rich, Ph.D.. W.W.Norton, 1976. Groundbreaking discussion of "motherhood as experience and institution."
The Mask of Motherhood, by Susan Maushart, Ph.D. The New Press, 1999. Passionate, funny, penetrating review of the hard parts of motherhood and the social prohibitions against acknowledging them.
The Transition to Parenthood, by Jay Belsky, Ph.D. and John Kelly. Follows three couples as they become parents; excellent integration of personal details and research findings.
The Chalice and the Blade, by Riane Eisler. Harper & Row, 1987. Fascinating, eye-opening exploration of the hunter-gatherer cultures in which humans evolved - and in which women and mothers, arguably, played a much more central role than they do today.

The Postpartum Period


The Mother's Book of Well-Being - Brimming with practical tips and resources for taking care of yourself--physically, mentally, intellectually, and emotionally--in early motherhood.
What to Expect the First Year, by Arlene Eisenberg, Heidi E. Murkoff, and Sandee Hathaway, B.S.N. Workman Publishing, 1989. Thorough, sensible suggestions from the authors of What to Expect While You're Expecting.
Postpartum Survival Guide, by Ann Dunnewold, Ph.D. and Diane G. Sanford, Ph.D. New Harbinger Publications, 1994. Practical guide, particularly focused on coping with postpartum emotional issues.
After the Baby's Birth - A Woman's Way to Wellness, by Robin Lim. Celestial Arts, 1991. Thoughtful, holistic suggestions for well-being during the challenging first year with a baby.


Beyond the Blues: Prenatal & Postpartum Depression.
The latest information on moodswings during and after pregnancy.

Raising a Family
The cliche' that children don't come with a manual carries a profound truth: every parent is thrust into the most difficult and the most important job in the world as an utter beginner, who has to figure out how to do it all on the fly. These books have helped guide our learning - and prevented a few disasters.
The Continuum Concept, by Jean Liedloff. Addison-Wesley Publishing Company, 1977. Classic exposition of the natural chidrearing environment that fosters secure attachment and child well-being.
Natural Family Living, by Peggy O'Mara. Pocket Books, 2000. Excellent resource by the publisher of Mothering Magazine, who is a staunch advocate for mothers and a gifted writer.
Your Baby and Child, by Penelope Leach, Ph.D. Knopf, 1997. Thorough, sensible guide to raising children, from newborns to five-year-olds.
The Interpersonal World of the Infant, by Daniel N. Stern, M.D. Basic Books, 2000. Scholarly but highly readable integration of research and psychoanalysis that offers useful insights into the experience of an infant with his or her mother.


The No-Cry Sleep Solution:Gentle Ways to Help Your Baby Sleep Through the Night, by Elizabeth Pantley. Contemporary Books, 2002. Full of reasonable, sensitive, loving, and attachment-oriented approaches to helping a young child have a restful night - and you, too!
Raising Your Spirited Child, by Mary Sheedy Kurcinka. HarperPerennial Library, 1992. Encouraging, practical suggestions for children with a high-energy temperament.
Positive Discipline, a series of books by Jane Nelsen and others. Depending on the ages of your children, you'll find loving and effective ways to cultivate good values and good behavior.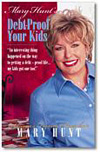 Debt-Proof Your Kids :An Interesting Thing Happened on the Way to Getting a Financially Confident Life ... My Kids Got One Too, by Mary Hunt. Broadman & Holman, 1998. It's never too early to help children learn to be responsible with money, and this is an excellent, engagingly written guide.
Respectful Parenting: From Birth through the Terrific Twos, by Joanne Baum. Child Welfare League of America, 2002. How to raise a happy and cooperative child through practical methods that embody a deep respect for the child's inner being.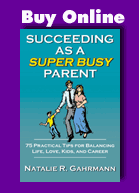 Succeeding As A Super Busy Parent: Created by Natalie Gahrmann, MA, ACC, author offers guidance for improving your personal and professional life. It features practical tips, inspiring quotes, useful exercises, self-assessments, and a wealth of valuable resources.

Skills for Your Mind and Your Relationships
Though written for anyone, these books contain helpful perspectives and tools that can be applied to the sprcific issues of a mother and her partner.
The Road Less Traveled, by M. Scott Peck, M.D. Simon and Schuster, 1997. A soul-searching blend of psychology and spirituality.
The HeartMath Solution, Doc Childre and Howard Martin, with Donna Beech. HarperSanFrancisco, 1999. Presents practical techniques for lowering stress, releasing negative emotions, and tapping the native intelligence of the human heart.
The 7 Habits of Highly Effective People, by Stephen R Covey. Fireside, 1990. A classic for good reason. Penetrating consideration of core principles of mental health and interpersonal effectiveness.
Wherever You Go, There You Are: Mindfulness Meditation in Everyday Life, by Jon Kabat-Zinn. Hyperion, 1995. An accessible, common-sense, and warmly written introduction to meditation and mindfulness.
Emotional Intelligence, by Daniel Goleman, Ph.D. Bantam Books, 1997. Fascinating survey of how the brain processes emotion - with plenty of practical applications.
Focusing, Eugene T. Gendlin, Ph.D. Bantam Books, 1982. Describes fundamental method for becoming highly aware of one's experience and helping it shift into a more positive direction.
The Dance of Anger: A Woman's Guide to Changing the Patterns of Intimate Relationships, by Harriet Lerner, Ph.D. HarperCollins, 1997. A calm, clear guide to managing anger in your relationships.
You Just Don't Understand, by Deborah Tannen, Ph.D. Ballantine Books, 1990. Fascinating guidebook to the different ways that men and women tend to communicate; full of practical suggestions.
Why Marriages Succeed or Fail: And How You Can Make Yours Last, by John Gottman, Ph.D. and Nan Silver. Fireside, 1995. Excellent combination of research information and practical advice, from a leading researcher on marriages.
Loving in Flow: How the Happiest Couples Get & Stay That Way, by Susan K. Perry, Ph.D., SourceBooks, 2003. Based on candid interviews with three dozen exceptionally happy couples who've overcome numerous crises and transitions. Non-scholarly, but grounded in the positive psychology literature.
You Look Too Young to be a Mom, Teen Mothers Speak Out on Love, Learning, and Success, edited by Deborah Davis. Perigee Books, 2004. A collection of unapologetic, honestly written essays by former teen moms about the joys as well as the daunting challenges of choosing to become mothers in a culture that views teenage motherhood as a mistake and a liability. Go Back